Water Standard
The Water Standard sets out the key legal guiding principles that support University of Cambridge Policy and Procedure in relation to 'Legionnaires' disease. The control of Legionella bacteria in water systems, Approved Code of Practice and guidance, L8'.
Which are to;
Provide a safe environment for University personnel and visitors
Promote awareness and provide training
Ensure reliable information is available
Define and communicate responsibilities to stakeholders
Operate effective information management processes
Monitor and review the principal objectives
Water Guidance
also known as; Water Safety Procedures including Written Scheme
Purpose
To provide guidance on the practical implementation of 'The University of Cambridge Standard for Water Safety' and describes suitable methodologies for the provision of safe hot, cold and drinking water and ventilation systems.
Objectives
To provide practical strategies and procedures to enable the implementation of the Standard for Water Safety.
To enable the University to comply with applicable legislation, statutory regulations and codes of practice.
Written Scheme
The duty holder should prepare and monitor any existing Written Scheme for preventing and controlling the risk. The Written Scheme gives an overview of responsibilities for tasks forming the basis of a Written Scheme. Estate Management recognises each Department shall have a different "Written Scheme" due to the differing installed assets.
The document Water Safety Procedures including Written Scheme should be referred to when determining the "Written Scheme" for an individual Department.
The "Written Scheme" may change as modifications are made to the systems. The "Written Scheme" is to be updated when these modifications are made.
The written scheme should include, where appropriate, and with reference to the risk assessment:
(a) an up-to-date plan showing the layout of the plant or water system, including parts temporarily out of use (a schematic diagram is sufficient);
(b) a description of the correct and safe operation of the system;
(c) the precautions to take;
(d) checks to carry out to ensure the written scheme is effective and the frequency of such checks;
(e) the remedial action to take if the written scheme is shown to be not effective.
University Safety Committee Structure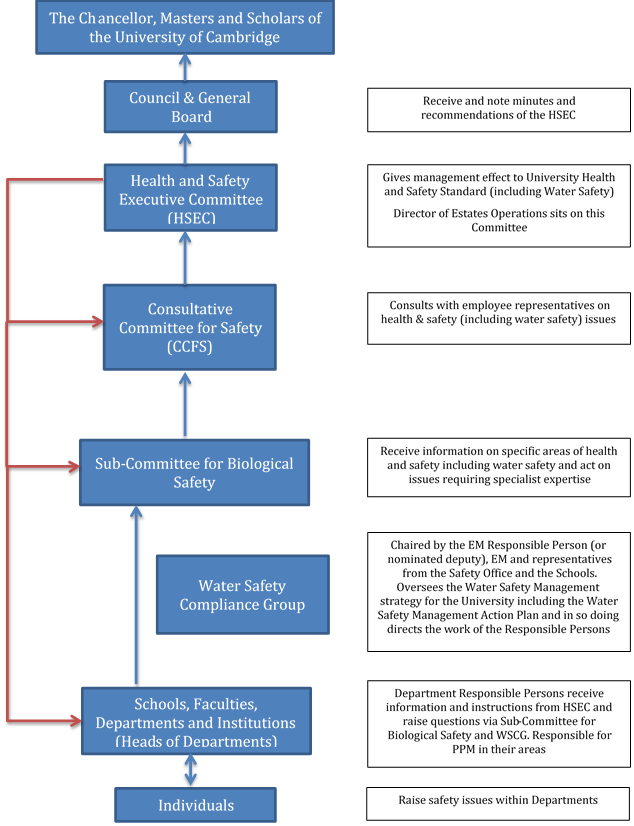 Responsibilities for Water Safety and flow of information and communication