This section provides information on how the University complies with its duty to manage asbestos.  Forms, Specifications & Templates are available at the bottom of this page.
Asbestos in University Buildings - Policy and Guidance
The Control of Asbestos Regulations require all Dutyholders, as a part of their ongoing asbestos management, to have a written plan in place which is put in to effect to manage risk.
The 'Asbestos in University Buildings - Policy and Guidance' document is the University's overarching written plan. This document sets out the framework of arrangements to manage the risk associated with legacy use of asbestos in the University's built environment. It complements the University of Cambridge Health and Safety Policy, guidance given within the University's Sites' & Buildings' Regulations, and should be read in conjunction with 'Local Procedures for Asbestos Management'.
Asbestos in University Buildings - Policy and Guidance
Local Procedures for Asbestos Management
A document providing guidance for the management of asbestos risk arising from departmental activities. Departments are required to follow these guidelines to enable the University to comply with UK asbestos legislation and endorse the University of Cambridge overarching Asbestos Policy.
A copy of this document can be requested from the Asbestos Team
Local Procedures for Asbestos Management
Asbestos Information Request Form
This form is available to support requests for information on building materials prior to alterations or maintenance work, asbestos-containing equipment to be removed, damaged Asbestos Containing Materials (ACMs) or all other requests for asbestos information.
Remember:  check the University Asbestos Register and submit an Asbestos Information Request Form (AIRF) where asbestos work is required, available information is not suitable, is inconclusive, is incomplete, or if you are in any doubt.
Asbestos Information Request Form
Asbestos Procedures - Protocol Frameworks, Information & Guidance
A supplementary guide for persons organising or instructing work, whether the work is Estates Division or departmental led. It contains quick reference flow charts for building maintenance and reactive work, project work, remediation work, and asbestos discovery during both maintenance and building / construction activity.
It also includes useful information on the likely locations where ACMs were used in buildings, and associated health risks from long term exposure.
Asbestos Procedures - Protocol Frameworks, Information & Guidance
Asbestos Management eBulletin
The Asbestos Management Team regularly issues an eBulletin. The purpose of the eBulletin is to communicate bite size pieces of topical / useful asbestos management information, and to continually reinforce / raise awareness within the Estates Division and amongst other associated stakeholders within the University community.
If you have Estates Division / departmental safety, building management and / or maintenance duties / responsibilities, if you have any influence or control over work that may disturb the fabric of buildings, fixed plant and services, then you may benefit from receiving the eBulletin. If you feel that you would benefit form receiving the eBulletin, then please contact the Asbestos Management Team, to be considered for inclusion on the distribution list. Please also include brief details of your position, duties and responsibilities.
Managing Work
Guidance is available from the University's Health and Safety Office that promotes and encourages  satisfactory standards of Health and Safety management when contractors are on University property. It includes reference to asbestos considerations:
Asbestos Register
The University's Asbestos Register is available via the internet to nominated Estates Division personnel. Building specific site registers can also be printed from within the system in order to supplement the online provision of asbestos information to other Stakeholders. In the first instance, the information should be treated as being derived from Asbestos Management Surveys which have inherent limitations such as access to concealed / difficult to reach materials.
The Estates Division has responsibility for holding and maintaining the Asbestos Register and ensuring that effective safety management systems are in place for its activities within University controlled buildings. The Estates Division is required to assist other Dutyholders, persons and organisations, who embark on their own building works.
Signs and Labels
Labelling with approved labels and replacement of older style labels has been organised by Estates Division and is ongoing for University controlled buildings including key risk areas, where reasonably practicable.
It is important to note that an asbestos containing material may not be labelled but all known materials will feature in the Asbestos Register.
Asbestos Containing Material (ACM) label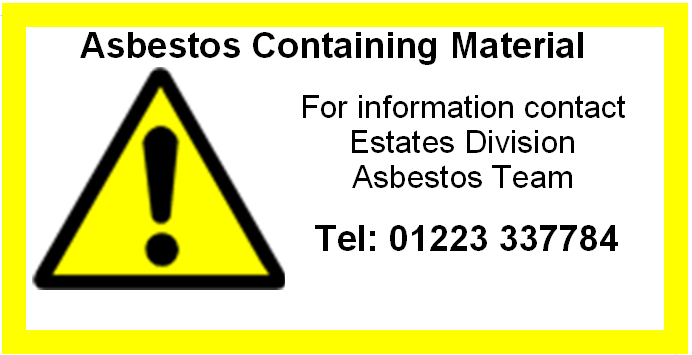 Other labels currently utilised for Estates Division asbestos management purposes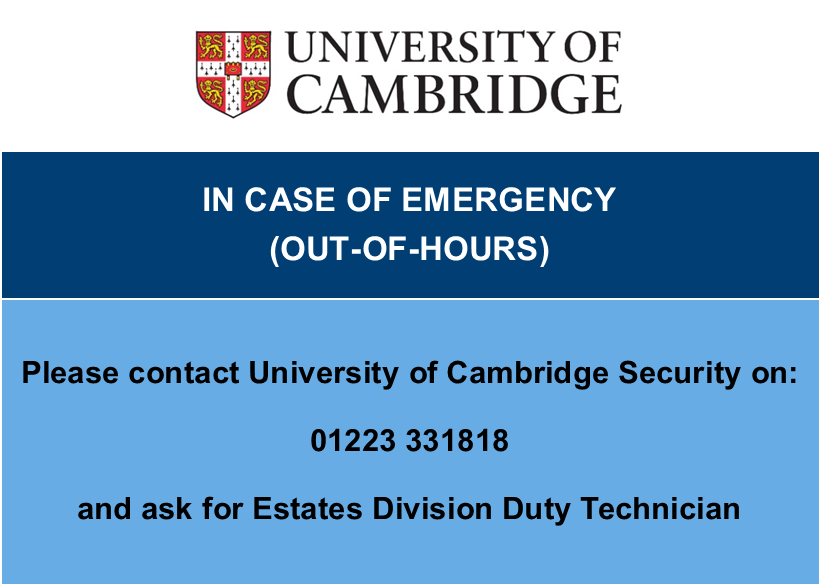 Working with Asbestos Materials
University staff are not permitted to work with asbestos containing materials. Consideration should be given to any work which has the potential to disturb ACMs.
Any activity that directly involves working with asbestos (i.e. materials known or presumed) must utilise persons competent for the task. Estates Division manage an approved list of asbestos specialists that must be used to undertake asbestos work within University controlled buildings (if you are unable to view the list please contact the Asbestos Team)
Approved Suppliers - Consultants - activities such as sample taking, analysis, air monitoring, clearance testing, asbestos surveys and asbestos project management etc.
Approved Suppliers - Contractors - activities such as asbestos removal / disposal, repair and encapsulation etc.
Please note it is a statutory requirement to use UKAS accredited and / or specialists licensed by the HSE for many types of asbestos work. Companies on the approved list meet all the necessary requirements.
Reporting Structure
The University Asbestos Working Group is principally responsible for overseeing the asbestos safety arrangements implemented by departments, faculties and institutions. The group meets periodically throughout the year and reports to the University Sub Committee for Chemical Safety.
The Working Group welcomes and values any input from the University community. This should be submitted to the Chairman of the University Asbestos Working Group, c/o the University Safety Office.
Forms, Specifications & Templates
Information, Advice & Guidance:
Local Asbestos Management Arrangements:
Project Management: