The proposal
The University of Cambridge is hoping to build a solar farm, up to approximately 36.7 hectares in total, on land to the south east of the Lordsbridge Radio telescope. See location plan below.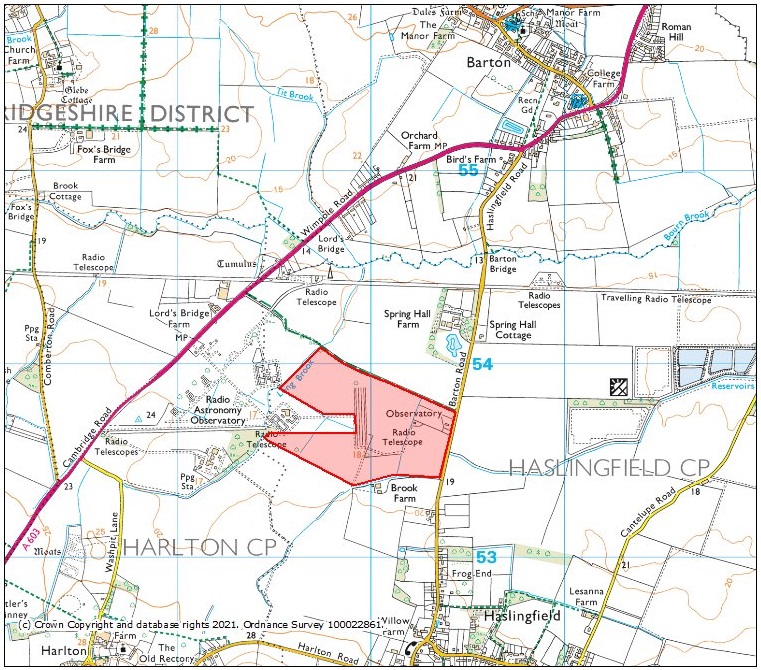 The proposed solar farm would consist of a series of panels, laid out and set an angle to ensure the panels achieve the best energy generation levels. See indicative illustration below.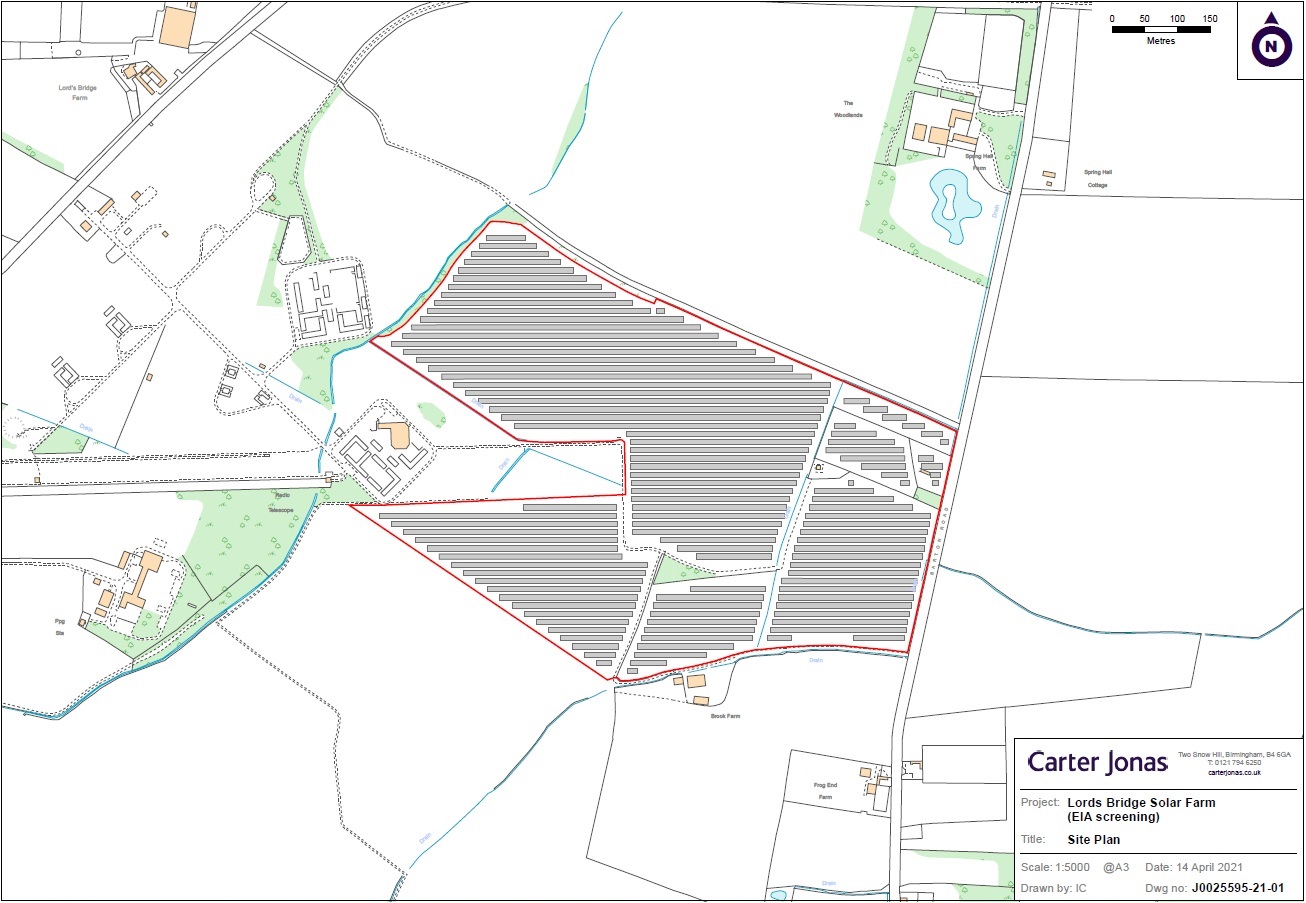 Site investigations are ongoing to inform the final design. This will consider archaeology, visibility of the panels, existing landscape features (e.g. hedgerows, trees and ditches), proximity to nearby residents, and existing biodiversity and wildlife habitats.
An initial visibility assessment suggests that the majority of the site is well screened from public view.
Where necessary, the University would look to fill in gaps in existing boundary hedgerows with species to match the existing plants. For the southern boundary, the University would look to plant a new, native species hedgerow. This would ensure that the site would ultimately be completely screened from public view. The panels would also be mounted on low-level frames to limit visibility from outside of the site.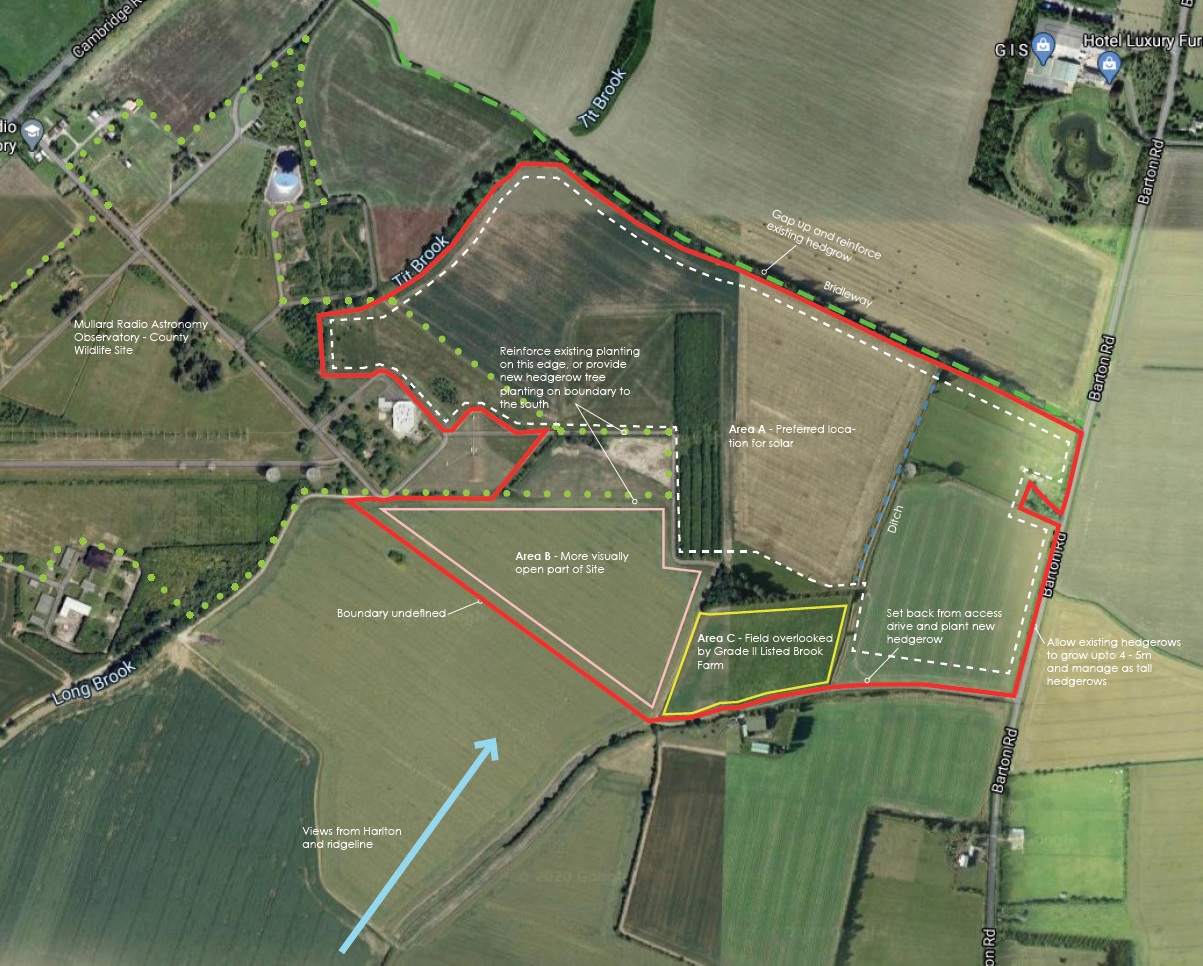 The University would be looking to plant vegetation around the panels to improve biodiversity, most likely with wildflower planting. See an example below. The potential for grazing of livestock around the site will also be explored.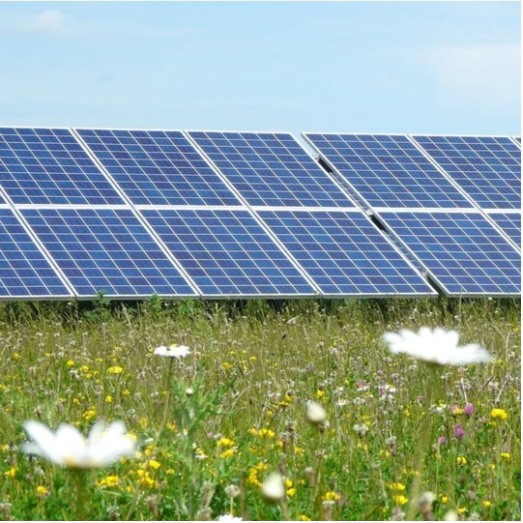 An Environmental Impact Assessment screening request has been submitted to the Greater Cambridge Shared Planning Service. This will ensure all issues have been identified and taken into account during the design and planning application process.  
The site would most likely be connected to the main University estate by an underground private wire network.
It is hoped that, subject to the outcome of the various site investigations and wider consultations, the array will generate up to 22MW of electricity.
Why is this important?
The University recognises the significance and scale of the climate emergency. It has committed to reducing emissions from fossil fuel consumption and has adopted a Science Based Target to reduce its energy-related (scope 1 and 2) carbon emissions to absolute zero by 2048 with an aspiration to become zero carbon by 2038.  
In 2019, the University of Cambridge consumed £14.3m worth of electricity, which is predicted to increase to approximately £21.2m by 2024. This consumption results in approximately 29,574 tonnesCO2, increasing to 37,521 tonnesCO2, being emitted into the atmosphere.  
The proposed solar farm at the Lordsbridge site would generate approximately 22,875,000 kWh per year, covering 19% of the University's 2019 electrical consumption. This could potentially reduce the University's carbon emissions by as much as 5,847 tonnesCO2 per year, a 19% reduction on current emissions. 
Frequently Asked Questions
Application
When will the application be submitted?
Once this consultation has closed we will consider your feedback before finalising our proposals.
It is our ambition to submit planning applications for the solar farm in autumn 2021, with the hope that planning permission would be received in early 2022.
How long have I got to comment?
We would welcome any comments you may have by 30 June 2021.
Once we have received your responses, we will use these to inform the ongoing scheme design, before we finalise and submit our planning application. The comments received will be summarised as part of our application. All comments will be recorded anonymously.
How do I comment?
The best way to comment on the proposals is to complete a short survey here.
If you have any further questions please contact the team via email at: projectmanager@admin.cam.ac.uk.
Construction
When will the works start?
Works will not start until successful receipt of planning permission and subsequent approvals from within the University.
If the application were submitted in autumn 2021, the earliest we could expect to receive planning permission would be winter 2021/spring 2022. At that point, we would begin the process of securing remaining internal approvals and appointing contractors. Therefore, construction work is not expected to begin until at least the second half of 2022.
Where will the private wire go?
The route for the private wire to connect the solar farm to University sites is still being investigated, although it would be below ground and so not visible. This is subject to discussion with statutory undertakers and landowners and wherever possible the route will be limited to field margins and the verges of the public highway network. We will engage directly with any potentially affected landowners in due course.
How will the works impact me?
We are committed to keeping disruption to a minimum during construction.
Construction access is likely to be achieved from Barton Road, although precise vehicle routes would only be established once a contractor has been chosen. Delivery movements would be kept to the minimum and only during normal construction working hours.
We will ensure the community have advance warning of any works to help minimise impacts. We will continue to work with the local authorities and affected parties as our plans develop.
Have your say
We want to share the initial plans for the proposed solar farm and to take any comments you may have on board before a planning application is prepared and submitted in autumn 2021.
The best way to comment on the proposals is to complete a short survey here.
If you have any further questions please contact the team via email at: projectmanager@admin.cam.ac.uk.