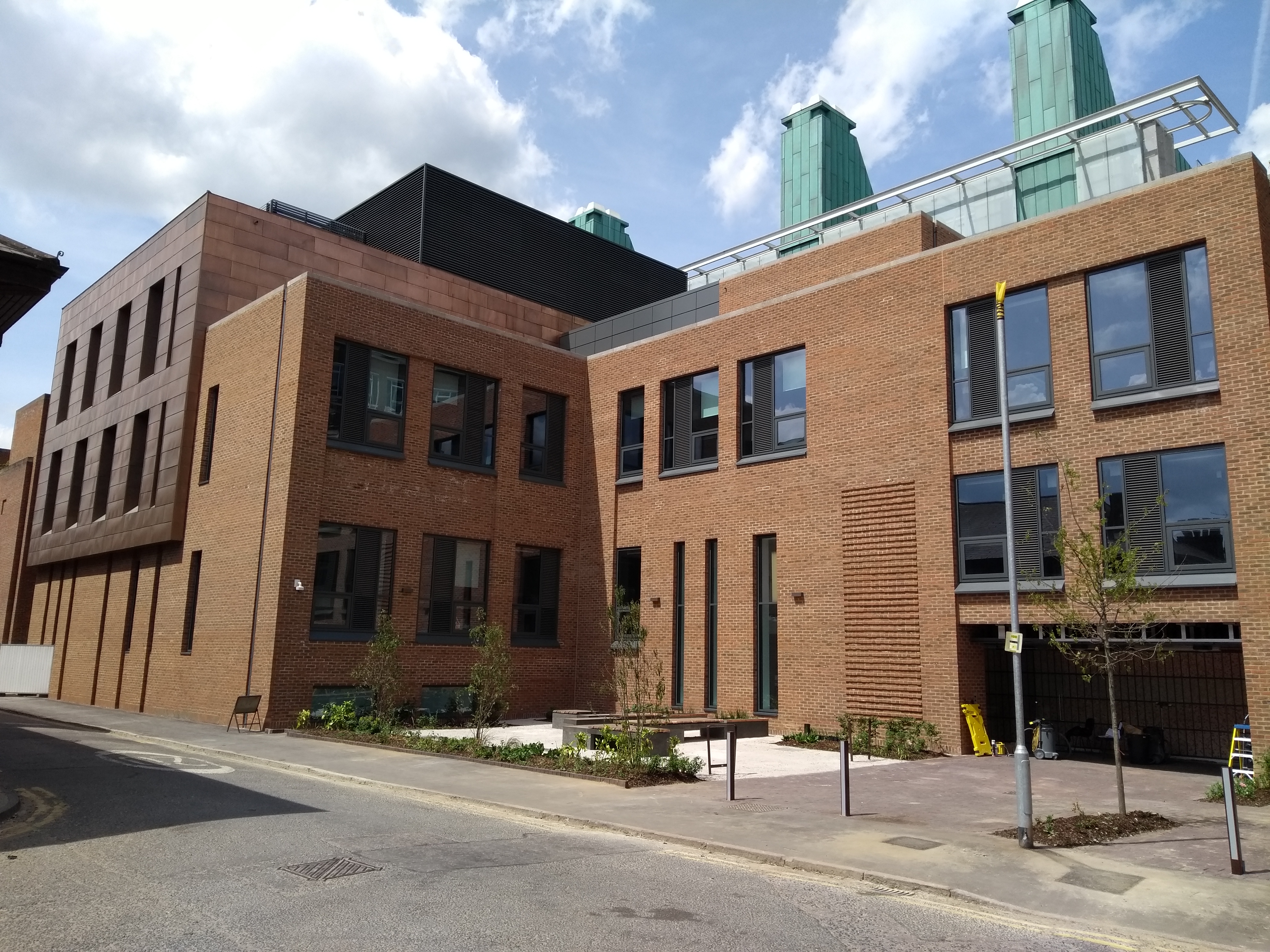 (Photography by J Ackers)
The new 2,600sqm Chemistry of Health building which was handed over on Friday 15 June was officially opened on Friday 21 September - see Communications office article.
Its occupants include the Chemistry of Health Incubator, the Molecular Production and Characterisation Centre (MPACC) and the Centre for Misfolding Diseases. Its state-of-the-art space will be used for the study of neurodegenerative disorders such as Parkinson's and Alzheimer's diseases (see Department of Chemistry's article for more information).
The project took approximately 4 years from initial design to building completion and the construction cost was in the order of £15 million. The new building was constructed in an old car park and needed a substantial enabling works contract to clear the site, including relocating a large liquid nitrogen storage vessel and associated plant to the main Chemistry car park, reorganisation of cycle parking and alterations to an existing high voltage transformer station. The site is within a conservation area which added to the complexity of the design and the associated planning applications. Construction work for the new building started on site in August 2016 and took about 200,000 man hours to complete with an average of 60 people on site over the 22 month construction period.
The building has 2,620 sqm of accommodation provided over 5 main floors including the basement.  The building is self-contained in terms of building services but is connected to the main Chemistry Department building via 3 links, including a substantial link bridge at first floor. It contains small cellular laboratories for specialist equipment and a large cold room in the basement, there are large open plan wet laboratories and adjacent open plan write-up areas and offices on the upper floors.  The building has achieved a BREEAM "excellent" rating, which is a benchmarking measure for sustainability, the category achieved is the second highest available.
In order to fulfil the normal Local Planning Authority requirement for Public Art, an installation by the Artist and Ceramicist Jacob van der Beugel was commissioned.  Jacob's piece, entitled "Matter in Grey", can be seen at the main entrance to the building and consists of 240 handmade panels inspired by the research work planned for the new laboratories.
Building project team:
Estate Management Project Lead – J Ackers
Consultant Project Manager – 3PM
Architect – RHP
Building services Consultant – KJ Tait
Structural Engineer – Ramboll
Cost Consultant – Aecom
Building Clerk of Works – Andrew Merrick
Mechanical & Electrical Services,  Clerk of Works  – Scotch Partners
Contractor – Kier Eastern 
Mechanical & Electrical Services Subcontractor – Kershaw & T Clark
(Photography by J Ackers)